Biography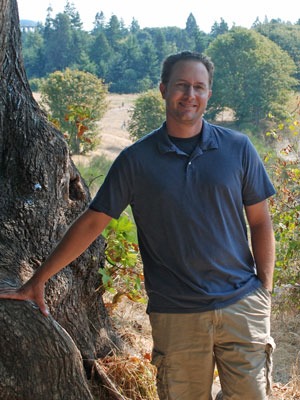 Jonathan Owens was born September 8th, 1973, the youngest of four brothers in an artistic family. He grew up in the Pacific Northwest with an avid interest in art that manifested in sketching, photography, and painting. During high school, Jonathan enjoyed long discussions with his mother, Jan Hart, and was exposed to several master painters such as Georgia O'Keeffe, Vincent Van Gogh, and Claude Monet. These influences will remain with him always.
After high school, Jonathan enrolled at Cornish College of the Arts to pursue graphic design as a profession. While he studied graphic design, he was able to take several fine art electives. Along with his other course work, he managed to take private classes in soft pastel with artist, Brenda Hughes. Though he graduated with his degree in design in 1997, he had found his passion in painting, and knew that painting would be his primary life focus.
Jonathan's initial subjects in painting were flowers, shells, and other close-ups of nature. These subjects gave him the opportunity to study form and composition while discovering his own unique process in painting. His passion expanded to capturing light once he began painting the skies of the southwest. Light and all of its amazing nuances is Jonathan's primary passion in painting. Painting the light in the sky and the light that surrounds chosen close-ups mirrors his search for the light within himself.
Artist Statement
My artistic process begins with close observation of a chosen subject. Design principles such as composition, harmony, value, color balance, rhythm, and unity are my intial tools to organize the painting. Once my concept is clear, I push myself to go deeper and to be as conscious and aware of every part of the subject as I am able. Usually, I find one or two focal points. Ultimately, all the parts of the painting take their place to support and express the whole. Some play subtle roles, some are surprisingly bold.
I use both color and light to express and enhance the essential nature of the subject. Light becomes an expression of life not only radiating from outside, but from within. Color emerges from the subject and becomes a mystery when combined with light. My subjects vary from close-ups of nature to the vast expanse of the skies above.
As an artist, I deliberately put myself into a state of deeper consciousness, almost as a meditation. In this state, I am more able to be in touch with my creative self, where painting is joyful and nearly effortless. Even though I am most passionate about the nuances of light, it is self expression that ignites the creative process. It is my hope that the viewer, when experiencing my painting, can catch a glimpse of his or her own individual depth and uniqueness.